The type of material you choose for your benchtops in your kitchen renovation is just as much about utility and matching your lifestyle as it is about the aesthetic. For this reason, working with your designer and fleshing out your and your family's needs is essential.
After all, renovating your kitchen and not ensuring that you have all of your requirements included is heartbreaking.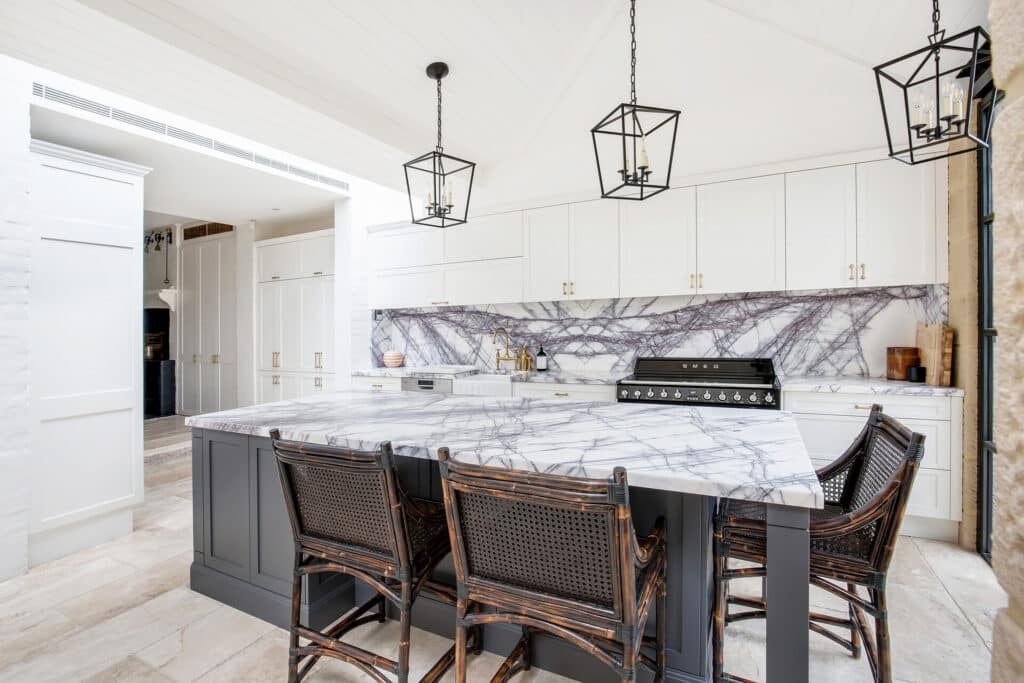 Understanding Your Needs
Narrowing down your choice of benchtops can be based on these three elements. You may have other lifestyle considerations to add to the mix, but these three will get you started.
Renovation Budget
Open and realistic discussions about your budget are a critical part of the design process, and if you have them early on, it makes the process easier to navigate.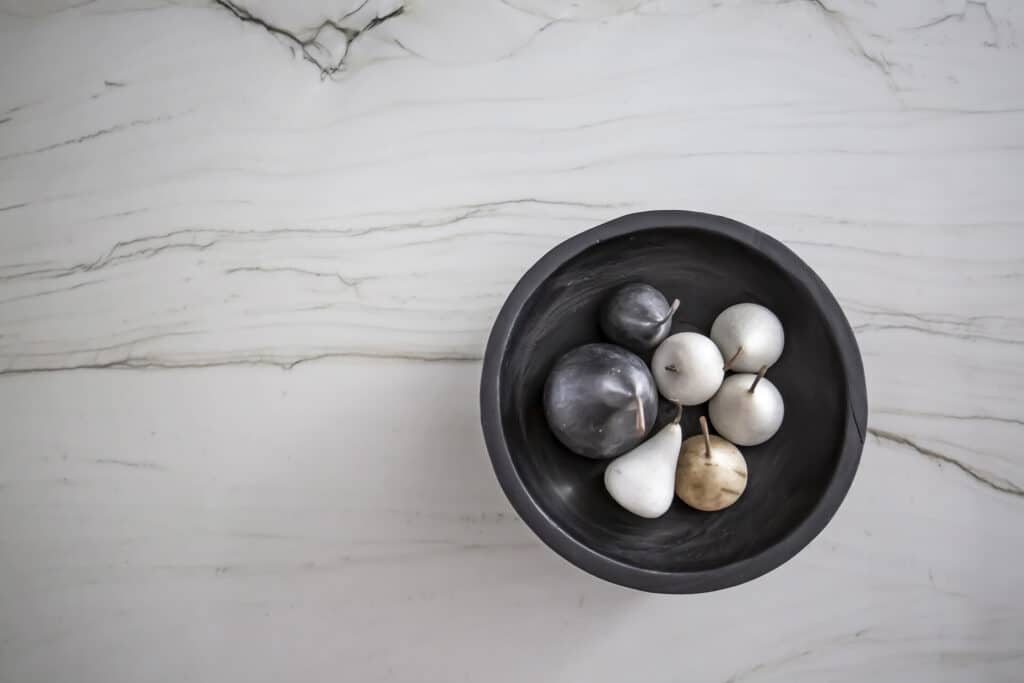 There is a vast gap between the most expensive and the most affordable benchtop materials available, so your budget will always be a prime consideration when choosing benchtops for your kitchen.
Remember that you need to understand the total cost, not just the materials' price. Some require special sealing, others regular maintenance, and ensuring you have the correct information is essential.
The Style of Your Home
Benchtops are a prominent feature in your kitchen and often the first thing people will see when they visit. This means your benchtops need to be visually appealing, reflect the style of your home and be sturdy enough to withstand your and your family's needs.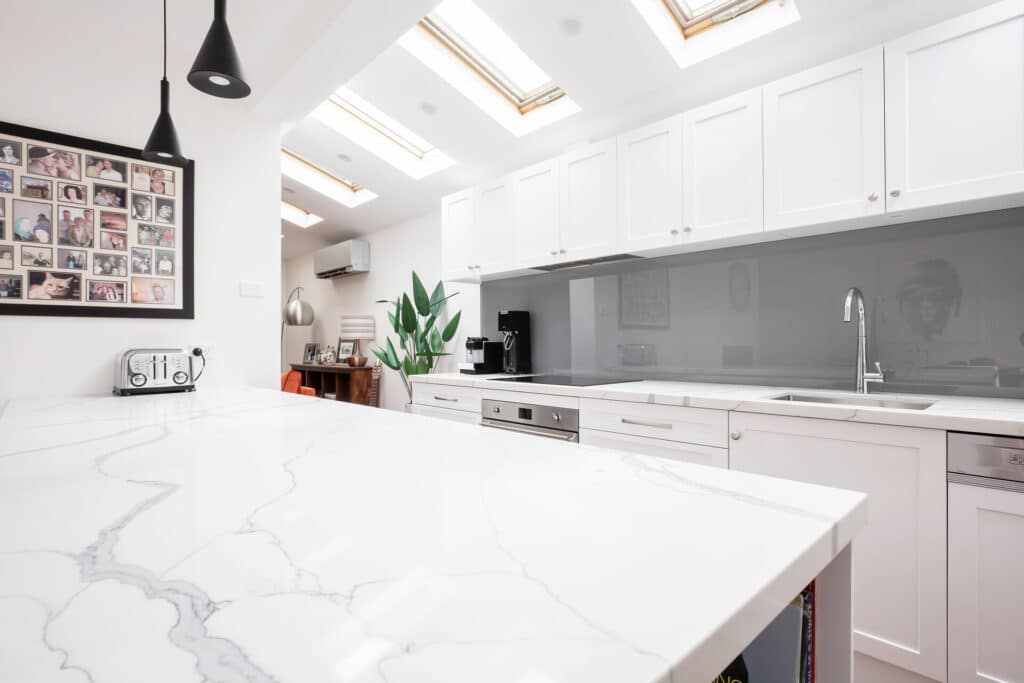 How Easy is it to Maintain?
Raw surfaces such as concrete and timber periodically need treatment to ensure they stay heat and scratch-proof.
Stone can be permanently stained by something as simple as juice if it's not cleaned up immediately, and some substances damage protective coatings. And some laminates are affected by heat, like hot cookware placed on them.
Picking Your Ideal Benchtop
Once you understand what you need in a benchtop, it's time to look at the most common choices on the market.
Granite
Natural stone is a beautiful addition to the right kitchen. Every slab is unique, and granite is elegant and aesthetically attractive.
Generally at the high end in terms of cost, it is durable and doesn't scratch easily. However, it is porous and needs sealing to ensure that it resists stains.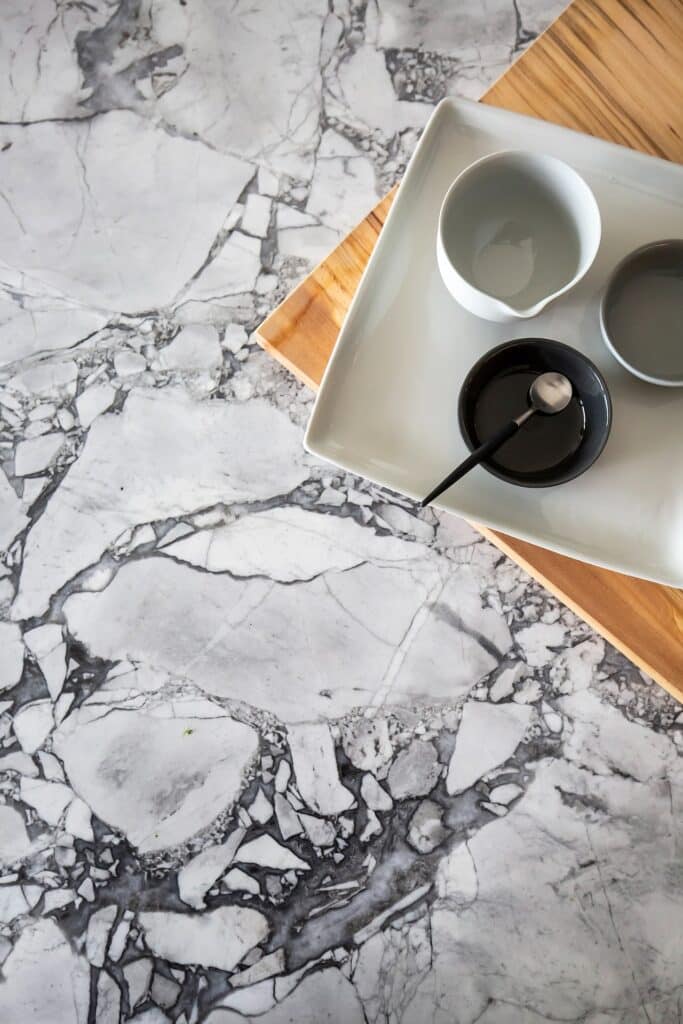 Engineered Stone
Engineered stone has evolved over the last 20 years and offers some advantages over natural stone. It's easier to look after, is available in several styles and finishes, and the cost varies depending on your choice.
Solid Surface
This benchtop material has a versatile array of applications and has seamless joins. It offers a very clean look and can be translucent if you want to backlight it. It is easy to clean, UV resistant, and easy to fix in case of damage.
Timber
Timber looks gorgeous in modern and traditional kitchens, and its appeal can improve over time. It lends a warm atmosphere to any kitchen and is relatively easy to maintain if they are covered with a clear polyurethane finish to protect the surface.
Laminate
Like engineered stone, laminate has evolved over time and is a proven solution for many kitchen designs. It's stain resistant and easy to clean, but care has to be taken with heat, and it needs to be sealed correctly to prevent water damage.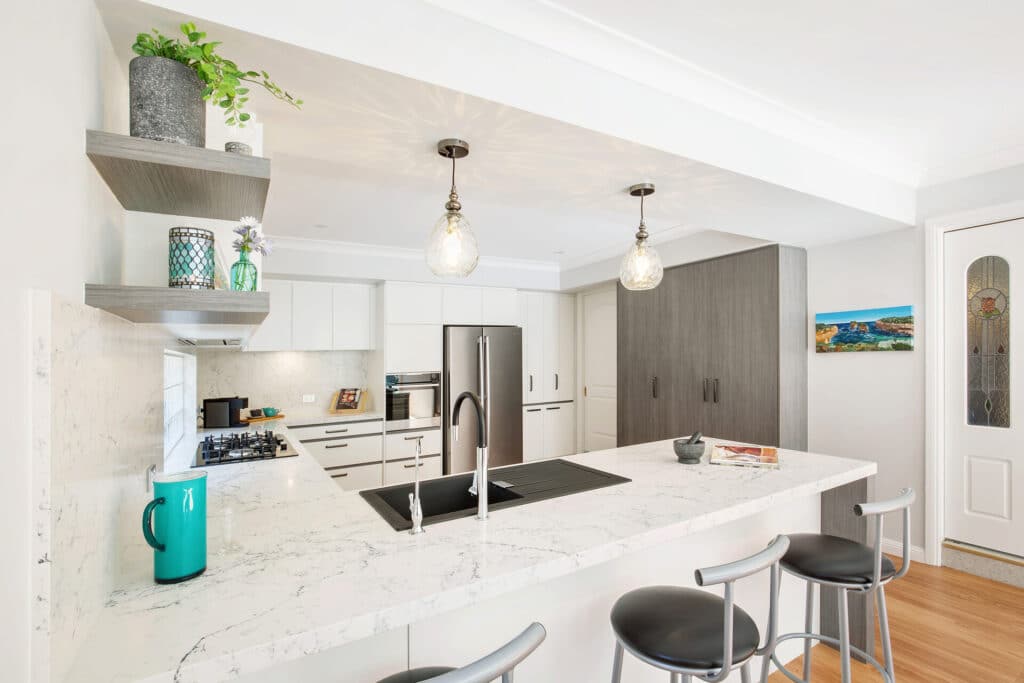 Marble
Classic, elegant and beautiful, and each piece is unique. It is not as durable as granite and can be prone to chipping, staining, cracking, and scratches. Its price range is susceptible to acidic spills, even higher than granite.
Contact Nouvelle About Your Renovation
As professionals, we know what we are doing regarding renovation. We know how to maximise the use of your space, design to reflect your lifestyle, and renovate to budget and agreed time frames. We take the headache out of renovation, so you enjoy your new space without the stress.
If you enjoyed our post, let us know your thoughts on our Facebook Kitchen Renovation and Design Ideas group! If you have questions about your renovation or remodel and making a statement with tiles in your home, contact us at Nouvelle.