Kitchen splashbacks are a quintessential part of any modern kitchen interior design. Far from just being a practical way to protect walls from cooking and sink splashes, these days, splashbacks can be a central element in your kitchen design in your contemporary kitchen.
As one of the first elements your eyes are drawn to in the kitchen, splashbacks are the perfect space to display your personal style or choose something trendy at the time – it's ideal to choose a splashback that fits with the overall design of your home.
There is a huge range of materials for you to choose from for your splashback:
Stainless steel.
White subway tile.
Mirror splashback.
Marble.
Stone.
Glass.
Copper.
Timber – natural or painted.
Tiled – Moroccan inspired, mosaic, geometric, patterned, herringbone.
Aesthetics aside, there are a few practical things to consider, for example, the type of material to use and whether it is waterproof, heatproof and easy to clean. 
Now let's get to the fun part you've all been waiting for – here are our top 6 Pinterest-worthy kitchen splashback ideas to make your space stand out.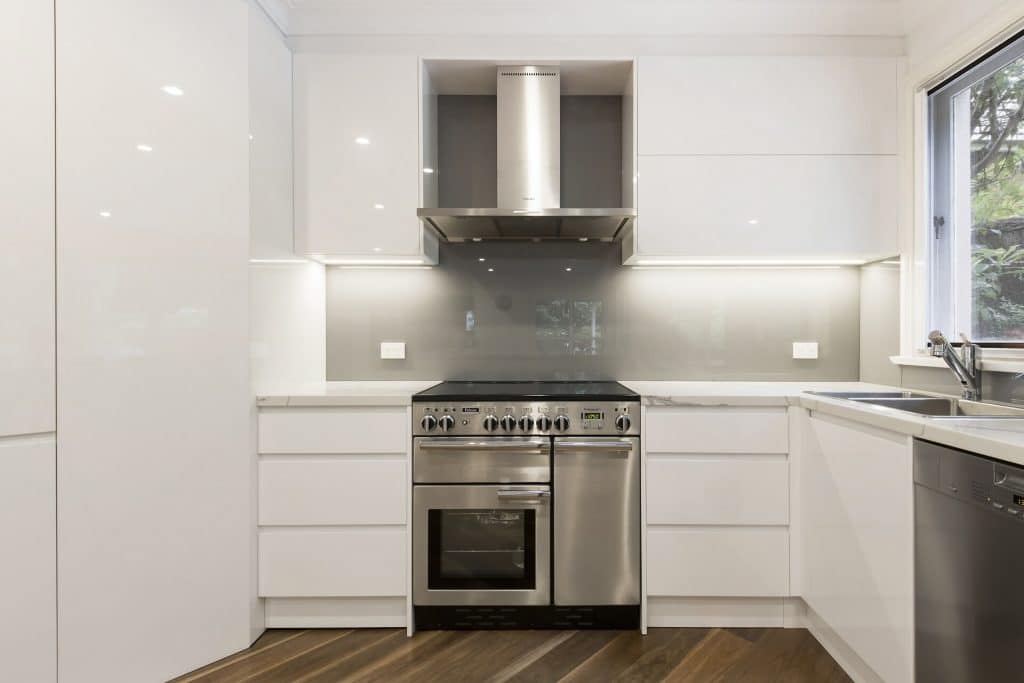 Install a Glass Splashback to Brighten Your Room
A glass splashback will reflect light into your room (when installed correctly) and can make your kitchen feel more spacious, warmer, and more welcoming. Available in various styles, they are clear glass, solid colour to complement the different shades in your kitchen, or photo effects or a pattern that can be added to fit your style.  
Glass splashbacks are easy to maintain, modern looking, they reflect natural light, and you can choose the strength of the glass depending on your preference and possibly your budget.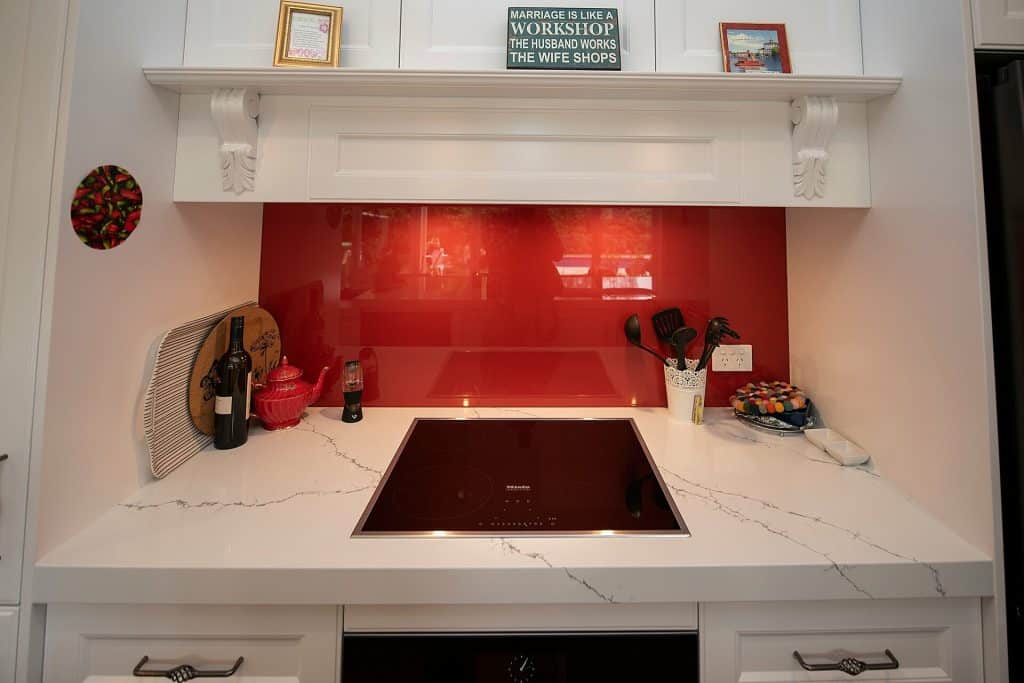 Exposed Brick for a Rustic Looking Kitchen Splashback
You don't need to live in a New York loft to rock the exposed brick wall feature. Whether you choose to highlight the existing bricks already in place or add half bricks to your wall, exposed brick gives your kitchen a cool, industrial look that adds character and originality. 
You can keep your bricks in their original colour for a reclaimed, industrial look, or paint your bricks an inspired colour to suit your kitchen scheme.
If you choose to go with brick, make sure your bricks are properly sealed to prevent residues from falling into the kitchen area and to protect the bricks from cooking splashes. Bricks are naturally porous, so they need to be treated to maintain their textured look.
Create a Focal Point with a Bold Pattern 
Nothing draws our attention more than a bold pattern, especially one that is in a contrasting colour to the rest of the kitchen, adding colour and interest.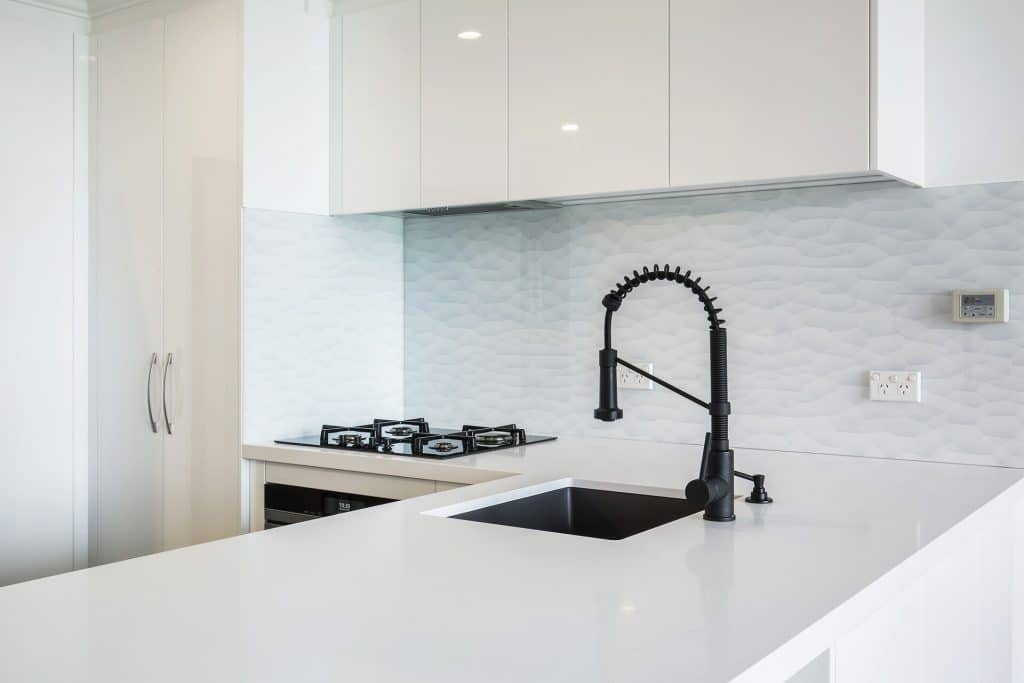 Depending on the patterned look that you choose, you can create a retro, vintage, painted or eclectic vibe to your kitchen splashback. 
Likewise, you can use tiles, laminate, or other materials depending on your budget and preference for the design for your modern kitchen.
Add Details with a Mosaic Tile Splashback
A mosaic splashback is a classic look that adds texture and intricacy to your kitchen walls. You can choose a variety of styles of shapes, sizes and colours – from a simple honeycomb pattern to a bespoke mosaic art.
Go Retro with Metro Subway Tiles
Metro subway tiles are one of the most well-loved tile designs and are an iconic feature of many metro stations in London, New York and Paris.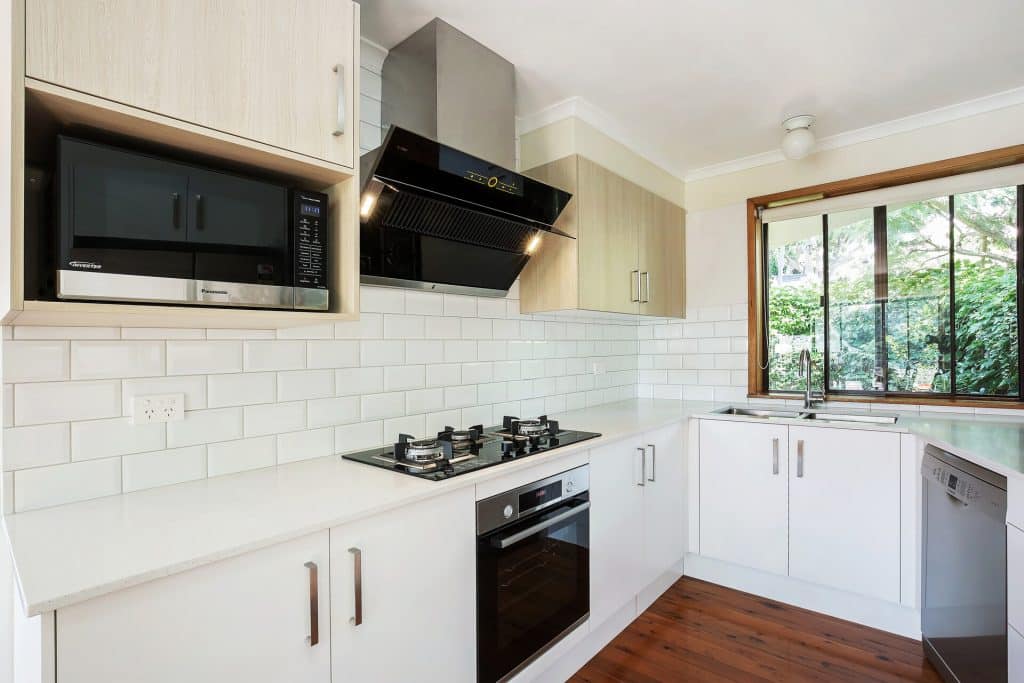 These days, metro subway tiles are often used in kitchens, bathrooms and contemporary cafes. 
Colour, finish (gloss vs matte), size, flat vs bevelled tile and pattern are some of the ways you can customise a metro subway tile splashback.
Whether you go for the iconic white subway tiles, glossy metro subway tiles in a vertical block, or switch it up with coloured metro tiles in a herringbone style, the options are endless.
Let Loose with Luxe Materials
If you're looking for ways to exude luxury in your kitchen without a complete remodel, why not incorporate luxe materials into your kitchen splashback.
For example, you can opt for a marble or Caesarstone splashback to match your countertops or even add a touch of gold to your rangehood. Using the same materials for your splashback as throughout the rest of the kitchen helps add cohesion and depth. 
Contact Nouvelle 
Have any of these kitchen splashback ideas inspired you to update your kitchen? Like getting a haircut, changing your splashback can bring new life and look to your kitchen for a relatively low cost.
Are you ready to consult with a professional on splashback design and installation? Contact the expert team at Nouvelle.