Every homeowner loves a functional and beautiful kitchen with a smart design. The key ingredient in a smart kitchen design lies in the layout, which enables you to get the most out of your space and increase the value of your home. 
In this blog, we cover the critical elements of a well-designed kitchen layout that will allow you to maximise storage, mobility, and convenience.
Choosing the Kitchen Layout That Maximises Your Space
When remodeling your kitchen, you can choose to keep the existing layout or change to a new one. A new layout can add to costs, as you may need to change the plumbing and wiring, however, if a new layout will work better for you then it may be worth the additional cost.
Kitchens are no different from other spaces in your house, they come in a variety of shapes, sizes, and layouts. The five most common types of kitchen layouts include:
One wall kitchen – most popular in small homes as it is designed to save space and keep all appliances and fixtures positioned along one wall.
U-shaped kitchen – with this layout features three walls of cabinets and appliances. This type of layout works best when the kitchen is at least 3×3 metres to allow mobility. Larger kitchens can benefit from an additional kitchen island to create more storage and bench space.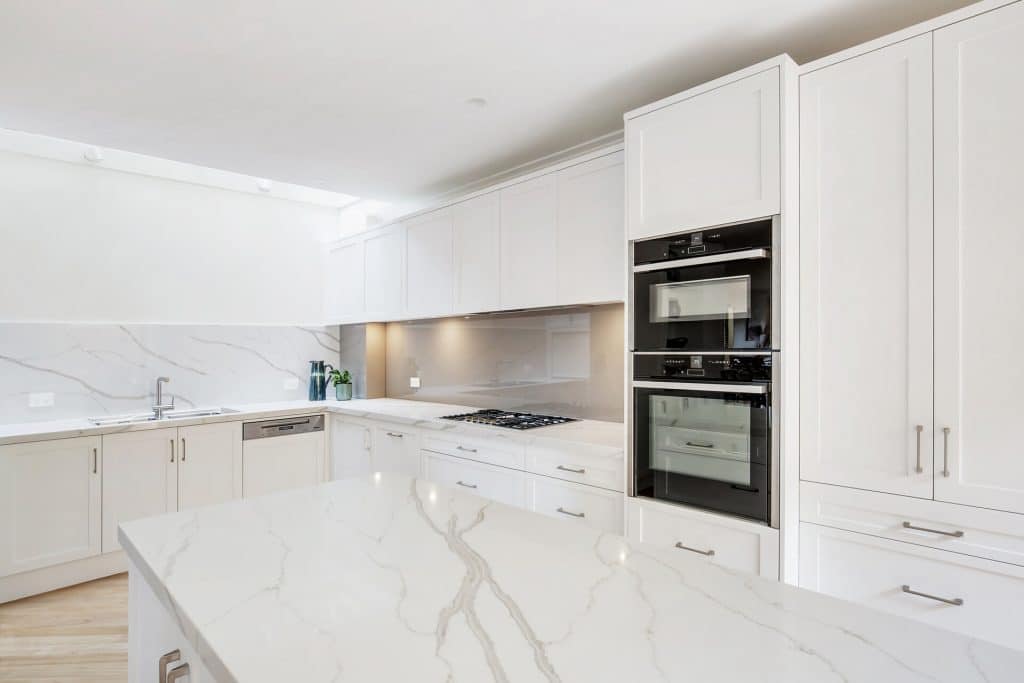 L-shaped kitchen – prevalent in homes with open plan living space, this layout makes use of two perpendicular walls. Suitable for kitchens of all sizes, this layout cleverly utilises the corner space and can be combined with a kitchen island for larger kitchens.
G-Shaped kitchen – similar to the U-shaped kitchen, this layout has a fourth dimension that adds extra countertop space. The extra space is a great substitute for a kitchen island, but again, works best for larger kitchens.
Galley kitchen – a long, narrow kitchen with cabinets and appliances on both sides and a central walkway. The advantage of a galley kitchen is that you can really maximise a small space and have everything within reach. Depending on the width of the walkway, galley kitchens may not suit more than one person using the space at a time.
Whatever type of kitchen layout you have, there are ways to position appliances, counters, cabinets, and doors in a way that is efficient for food preparation, cooking, and movement.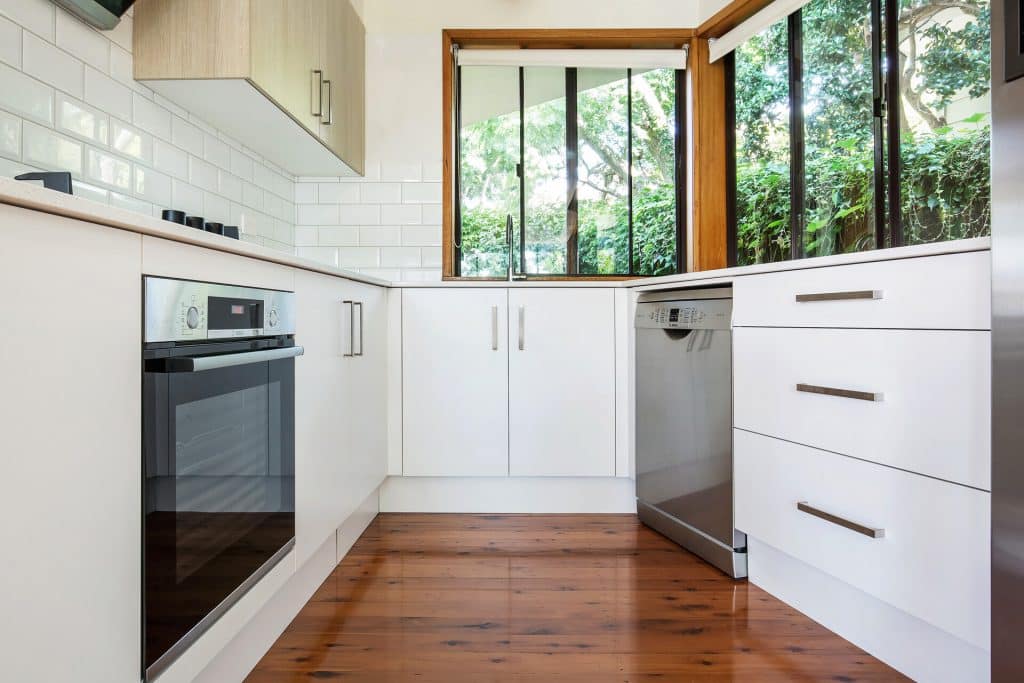 Follow the Kitchen Triangle Principle
Developed in the early twentieth century, the kitchen triangle principle states that a kitchen's three main work areas should form a triangle. Each segment of the triangle should feature a different work area – stove for cooking, sink for food preparation and fridge for storage – to create optimal flow and movement.
If you are remodelling your kitchen, it's important to work this principle into your design layout so that you can enhance the functionality of your kitchen. As a general rule of thumb, the total length of your triangle's sides should be between three and eight metres.
From Kitchen to Dining – How Will This Work?
While the focus is on the kitchen, its flow to the dining area is equally important. These days, many modern homes are designed to be open plan, which means that dining rooms become an extension of your kitchen. Not to mention a connected kitchen and dining area also increases the convenience of transporting food.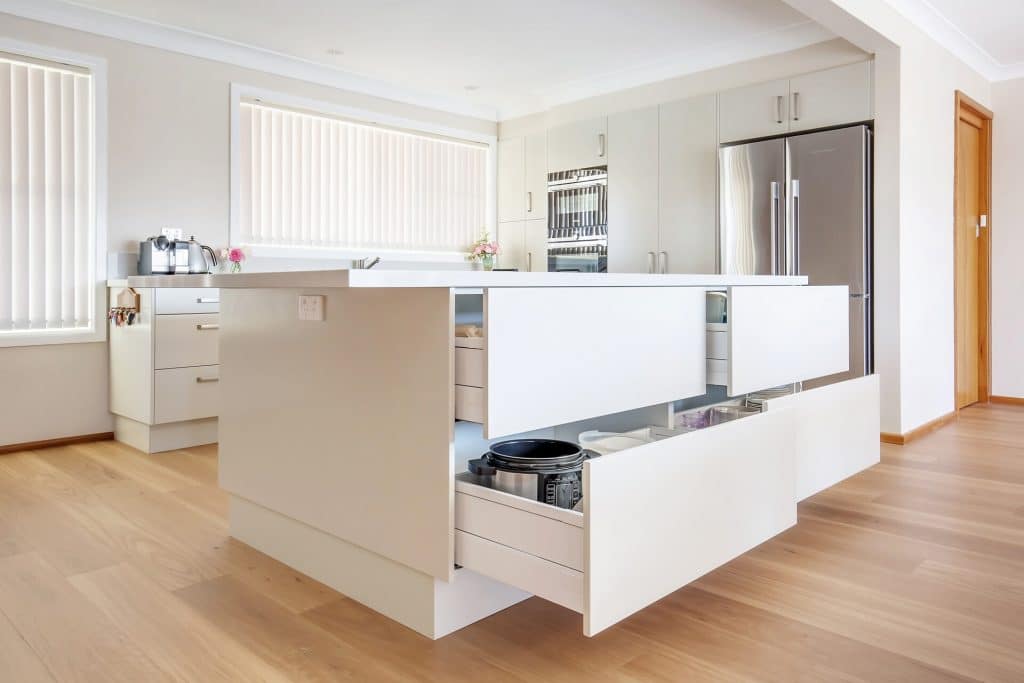 Create Organised, Efficient Storage Spaces
No matter how large your kitchen is, doesn't it always feel like you just don't have enough storage? The first step is to pull out everything you have in your cabinets and cull items that you no longer use. Define your items by the 'zone' they belong in, such as utensils for food preparation, pots and pans for cooking, cutlery and dishes, and pantry items.
If you're finding it hard to position all your kitchenware at your arm's reach, or you simply don't have enough space, then you can consider updating your kitchen cabinets. Other creative ways to create more storage space include:
Installing a hanging rack for pots, pans and mugs.
Use shelf organisers to create additional levels for storage and increase visibility of items
Mount items like knives, cooking utensils, herbs and spices on the wall.
Inner drawers or pull out cargo units.
Make the Most of Your Counter Space
Clutter-free, generous counter space is essential for a well-designed kitchen that allows you to prepare food safely and conveniently. Ideally, your counter or bench area should be close to a metre in width, as well as have a clear space next to appliances such as fridges, ovens and cooktops.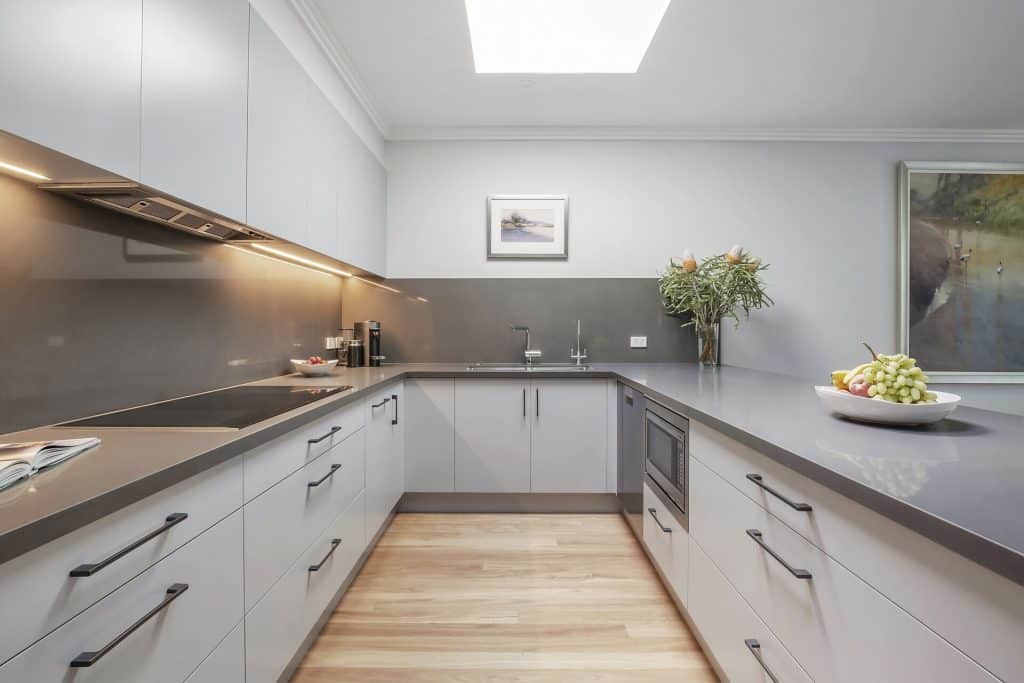 Aside from the dimensions, consider the material of your countertops, as the weight and maintenance may affect the functionality. While concrete or natural stone may be trendy and aesthetically pleasing, they are also very heavy.
High-pressure Laminate is cost-effective and easy to maintain, but not as durable as alternatives such as Caesarstone.
Contact Nouvelle About Your Kitchen Design
At the end of the day, no two homes or kitchens are exactly the same, and that's why it's highly valuable to speak with an experienced kitchen designer.  At Nouvelle, we have a team of kitchen experts that can help you design a kitchen that makes the most of your space, your goals, and your budget. Contact us for a consultation.