Every homeowner dreams of having a well-lit kitchen that can serve as a multifunctional space for a wide variety of tasks. It's a place where we cook, entertain guests, pay bills, read a book and lots more.
Ambient light sets the mood and is the basis for your general lighting plan but by itself isn't enough.
In addition to ambient lighting, there are other types of lighting you need to ensure that the entire room and its different functional areas all work well. Task and accent lighting are ideal companions to season your ambient lighting recipe.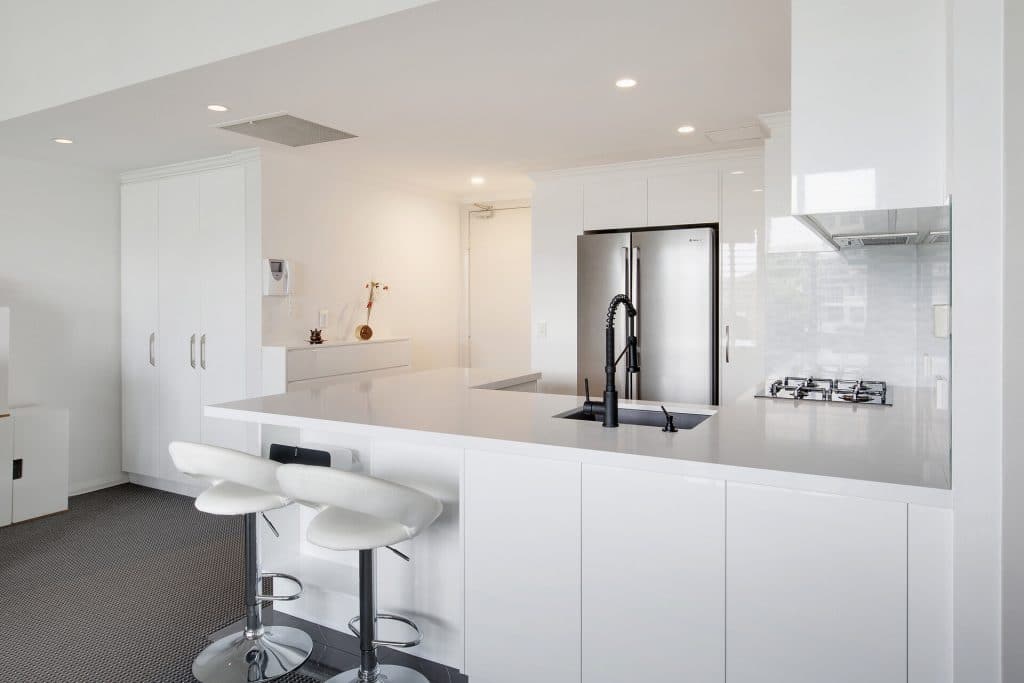 More than just making your room visible, well designed ambient, task, and accent lighting is ideal in your kitchen and allows you to enjoy the space and use it more efficiently.
Good lighting can also open up the room and make your kitchen look and feel larger, especially if your kitchen doesn't offer a lot of natural lighting.
Planning kitchen lighting is a bit like cooking. You will need all the components – core and secondary ingredients, toppings and seasoning – and add them in one by one to make a delicious, well-balanced dish to add to your menu.
The three types of lighting that you should incorporate into your kitchen – ambient, task and accent lighting are like the ingredients in a recipe.  All three types of lighting serve their respective purposes to improve the aesthetics and functionality of your kitchen.
Read on to learn how to create the perfect combination of ambient lighting, accent lighting and task lighting for your room's focal function.
Ambient light functions as general lighting
Think of ambient lighting as the hero ingredient of your dish. As the main source of light, ambient lighting is essential for any well-lit kitchen.
It sets the room's overall mood and provides a sense of warmth and depth for your kitchen. A well-placed lamp can add to the ambience and style of your kitchen.
This may be the soft overhead light that illuminates the floors and walls, allowing you to see your way around the kitchen without too much glare and prevents you from bumping into a table or chair or any of the room's other furniture.
Task lighting adds bright focus to workspaces.
Very few recipes are complete with just one ingredient, which is why you need to add more elements to create a well-balanced dish. After all, what's a pizza without toppings or  fried rice with just rice?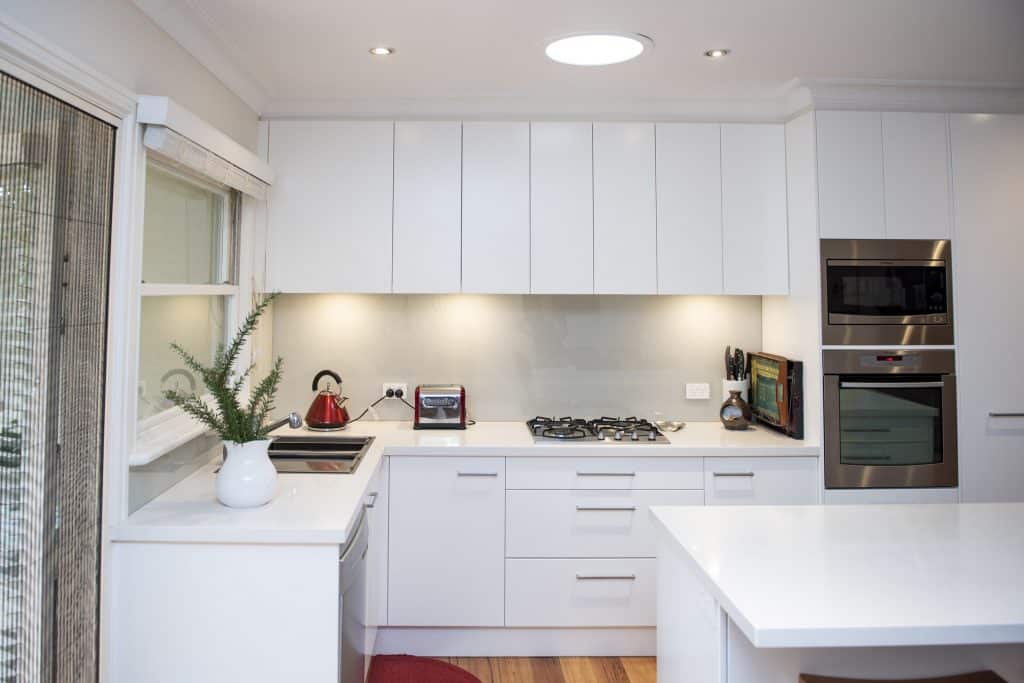 Task lighting is what makes a kitchen dynamic and functional. As a brighter source of light, it adds light to specific areas in the room, such as countertops, islands, sinks, inside cabinets and more.
The end result should be to provide more lighting, with track lights in particular, for precise tasks such as food preparation, cooking and cleaning.
Accent lighting complements ambient light.
Restaurant meals often come with garnishes and extra seasoning that enhances the dish with visual appeal and depth of flavour. Likewise, accent lighting enhances your kitchen by drawing attention to architectural features or décor in the kitchen, such as artwork and displays.
Brighter than ambient lighting but dimmer than task lighting, accent lighting injects visual interest and personality into the room.
Tips For Installing the Right Lighting in Your Kitchen Spaces
It is wise to consult with a general lighting expert before tackling a lighting design for spaces like kitchens. Here are some tips to get that conversation started:
Ambient lighting
If it works for your room, you can create cosy reading nooks with stylish floor lamps or use a corner of the room where you can quietly listen to music on your headphones while having a rest from your household chores.
Lamps are the perfect way to add that extra chic touch to your kitchen or light up an awkward space that is difficult to address with installed lighting.
The type of light fixtures that you can use to achieve ambient lighting includes chandeliers, pendants, recessed lights, and any wall or ceiling-mounted lighting.
Ambient lighting fixtures should light the kitchen evenly across the room. It's important to consider the right location to install them, the light intensity, and the type of fixture that ensures effective ambient lighting.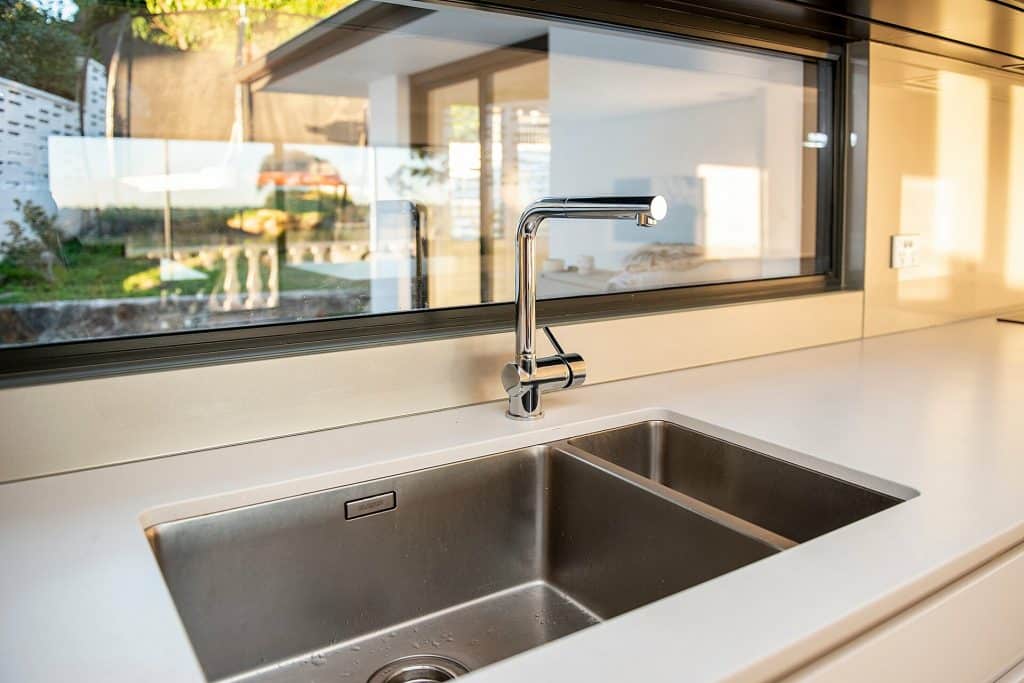 When it comes to location, position chandeliers or pendants directly above the island or at the centre of the ceiling.
For recessed lights, space out the lights equal to half the height of the ceiling and over countertops to avoid shadows being cast.
Also, take into account the room's natural light and how that will affect the kitchen during the day. Ambient light can enhance naturally occurring light and can brighten spaces that are a little too dark during the daytime.
Task lighting
Task lights need to directly cast light over the work areas where you prepare meals, cook, clean and enjoy food. Ideally, these types of lights are placed directly above sinks, chopping stations, dining tables etc.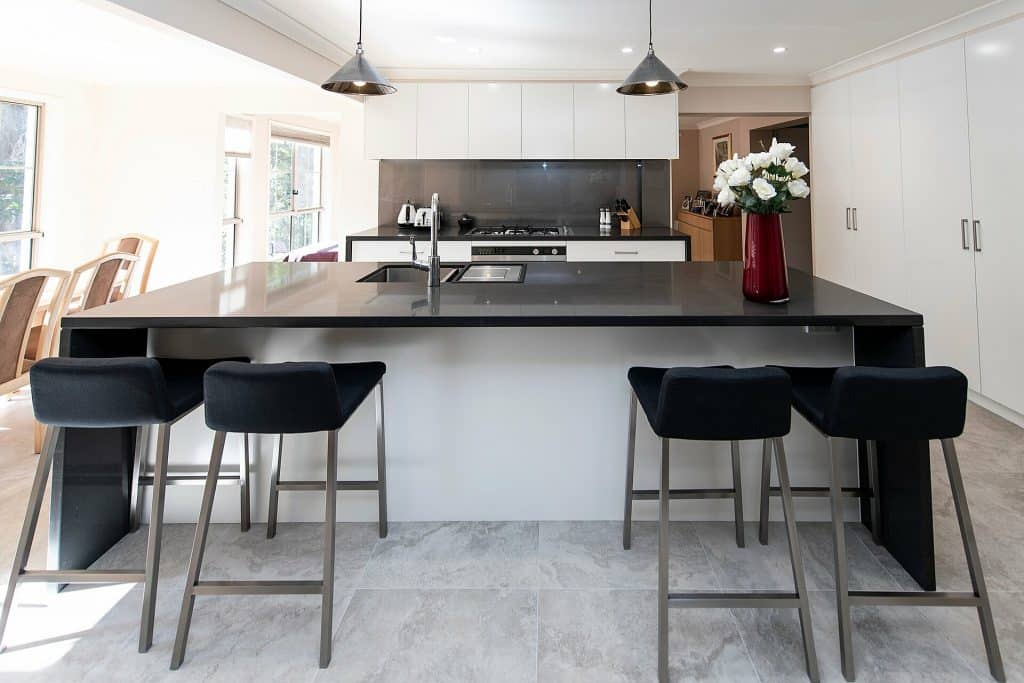 You can create task lighting by using pendant lights, multi-bulb LED strips and LED tape. Depending on where you position the lighting, you can cast a spotlight on the countertop, inside cabinets and drawers, which will make it easier to prepare meals and retrieve utensils.
For pendants, make sure that they are mounted no closer than half a metre from the surface to minimise how bright the light they emit is.
For LED strips, track or tape lighting, you can install them in a variety of positions – on the underside of upper cabinets, inside drawers, behind a cabinet or pantry doors. The tip is to mount these lights three to eight centimetres from the front of the cabinet to minimise glare.
Accent lighting
To highlight the décor in your kitchen, cove and puck lights are commonly used. Here are some ways you can position the different types of lighting:
Cove lights can be installed in the ledges of a ceiling to highlight decorative ceiling tiles.
Puck lights can be installed on the underside of upper cabinets or on the top of a cabinet shelf as a backlight to showcase decorative pieces.

Three factors to consider when choosing different lighting options
1. Choose your lighting intensity
Did you know that different light bulbs emit different colour temperatures and brightness? A higher bulb wattage emits a cooler (i.e. bluer) light, which produces an energising atmosphere. A lower bulb wattage emits a warmer light, which creates a more subtle, cosy atmosphere.
There are no fast and hard rules on the exact wattages you should use for a kitchen. If you have a predominantly white kitchen, then you may be better off using lower wattage bulbs. On the flip side, a dimmer kitchen will need a higher wattage.
Here are some recommended guidelines to follow:
– Ambient and task lighting: 3500K to 4000K is ideal for creating a neutral, true white light that works well on kitchen floors and work surfaces.
– Accent lighting: 2700K – 3000K creates a soft, white light which is perfect as a backlight to showcase décor.
2. Incorporate natural light sources
If you want to create a light and airy kitchen with natural lighting, then consider renovating your kitchen to achieve this effect. Windows and skylight will instantly bring warmth and light to your kitchen, especially during the daytime.
Some of the ways you can incorporate natural lighting include:(alt tag: natural light adds ambient lighting to your room)
– Installing a skylight, such as over your island or bench.
– Installing a window, such as between upper cabinets, in the middle of a splashback, on the top of a wall etc.
– Replacing your door to include glass panels.
3. Add a touch of automation
Lights with motion sensors can be seamlessly integrated into your kitchen lighting plan, providing convenience, security and control.
Motion sensor lights allow you to navigate your kitchen safely at night, especially handy when you are half asleep and looking for the light switch.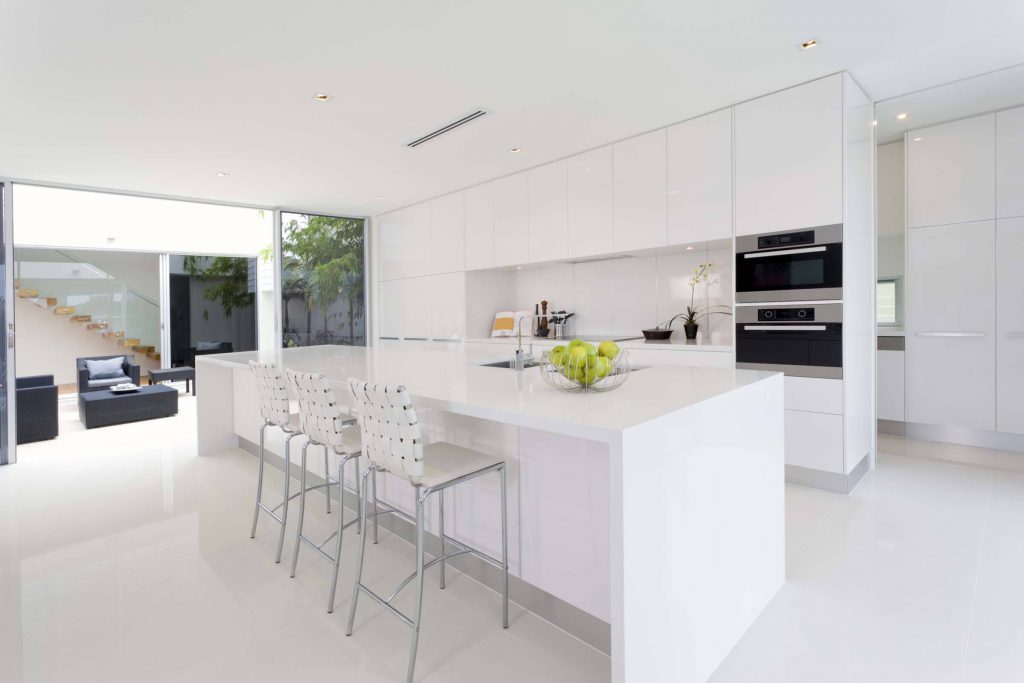 Similarly, you don't need to remember to switch off the light when you leave the room. Of course, it's not just the main lights that you can apply motion sensors to, but you can also apply motion sensor LED strips to the insides of your drawers and pantry, which are activated when they are open.
For more innovative touches, you can also look into smart lights, which allow you to control remotely via an app.
Contact the Nouvelle Team Your Lighting Needs
Feel inspired to jazz up your kitchen's ambient lighting? Contact us at Nouvelle, and we have a team of dedicated experts ready to help you transform your kitchen with any lighting task that you may have.
Whether you need ambient lighting, track lights, recessed fixtures for any room of your house, we start with a design for your lighting needs.