Many colours have significant influence on us in everyday living, hence why they are so important in kitchen renovations. Red is a colour of power, danger or high importance. Blue represents intelligence as well as peace and cleansing. Green is a colour related to nature and brings new 'growth' and fertility.
It is a common trend to have colourful items in your home. In this article, we will be discussing the colour Yellow and how you can incorporate it into your everyday living.
Yellow is a colour of happiness, optimism and creativity. Yellow is the most vibrant in the colour spectrum and is the first colour the human eye processes. This is the perfect colour to have in your kitchen or living areas, and here are some reasons why:
– Yellow can provide a happy, joyous atmosphere. Consider having a feature wall or brightly coloured décor items to help lift the mood (sunflowers in a vase, yellow cushions on the lounge or even a simple bowl of lemons or bananas on the countertop)
– Creativity can be stimulated in a study or bedroom with yellow-coloured stationery items. This may explain why highlighter yellow is popular when marking up important text and why Post-it notes are a subtle yellow colour
– If you seek creativity in the kitchen, why not consider yellow kitchen utensils and cookware? Yellow napkins to accent the dining table or yellow pots and pans to express yourself whilst cooking
Need some inspiration? I found some great images for you!
Yellow is such a vibrant colour. As it is so noticeable, it means you do not need to go overboard in order to create a statement.
Take for example this cookware set from Caraway: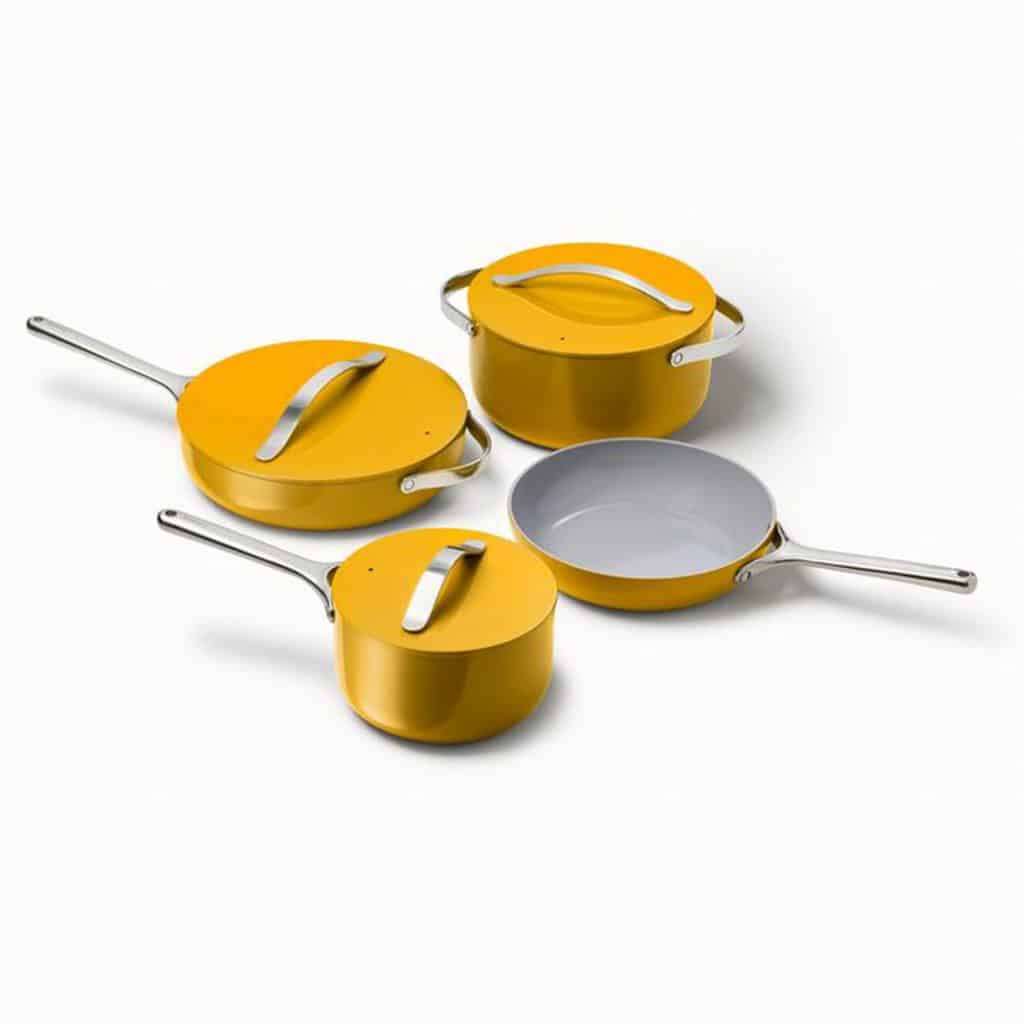 This limited-edition cookware set in Marigold completes the kitchen vibe. The colour makes you want to smile! You would feel invigorated whilst making an omelette in the morning. Making that 3 course meal would be a breeze. The colours emit happiness and playfulness. If you are entertaining friends or family, who's to say they won't comment on how unique your cookware is? A great conversation starter (and maybe a way to get them to help with washing up?) 😉
The best part is, because this set is unique, you can use them whilst serving on the dining table. A floral arrangement of daisies, lilies or yellow roses surrounded by self-serve saucepan of pumpkin soup or mac and cheese will invoke engaging conversations and laughter.
Never underestimate the power of colour!