Your splashback can definitely be a big feature of your kitchen. Still, your splashback and the material it is made of should not be chosen because of the look alone. Splashbacks provide a serious function in your kitchen, protecting your wall from dirt and damage, and if you want it to last, you need to look at durable materials that provide a robust solution.
1. Try a Tile Splashback
Tiles, make sure they are rated for heat durability, are a perfect way to add pattern, colour, and texture to your splashback. Porcelain tiles are particularly easy to clean, water resistant, and very durable. If you decide on matte tiles, they must be treated to stop them from staining.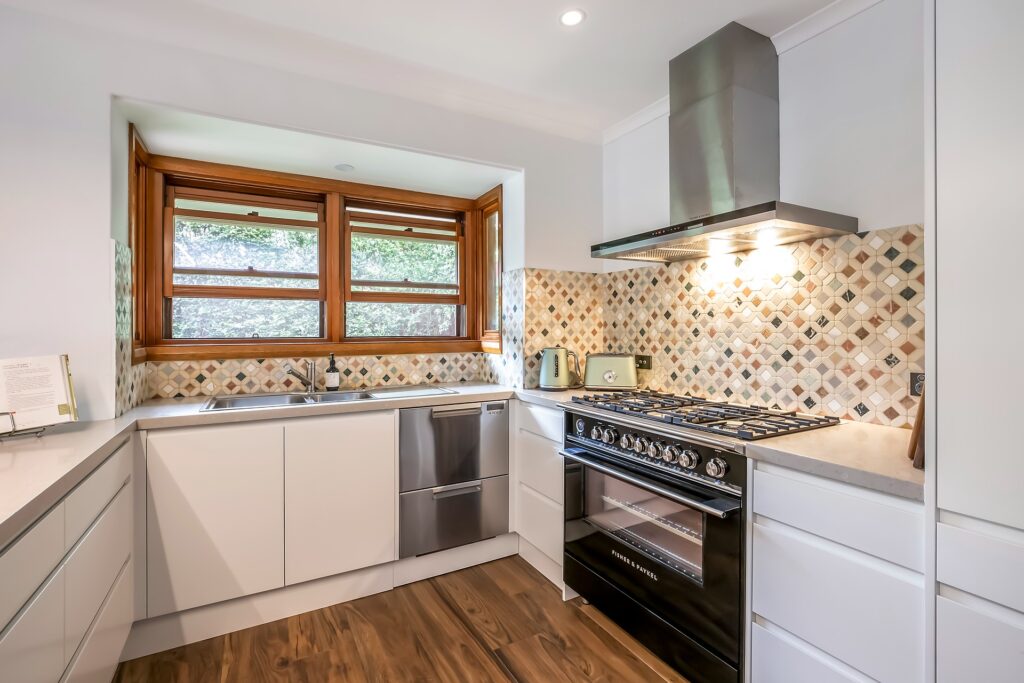 While ceramic tiles may be cheaper, they don't match the durability of porcelain and tend to be used for tile walls because shaping and cutting them is an easier process.
If you are using tiles for your splashback, choose the colour of your grout to suit your space. If it's the same colour as your tiles, it will help to make your room look bigger, or you can make a bold statement with a contrasting colour.
2. Styling Your Splashback with Glass
Toughened glass is ideal for your splashback and is easy to clean while being a long-lasting option. You can choose either transparent glass or from a wide range of colour options and end up with a stylish, glossy, and reflective splashback.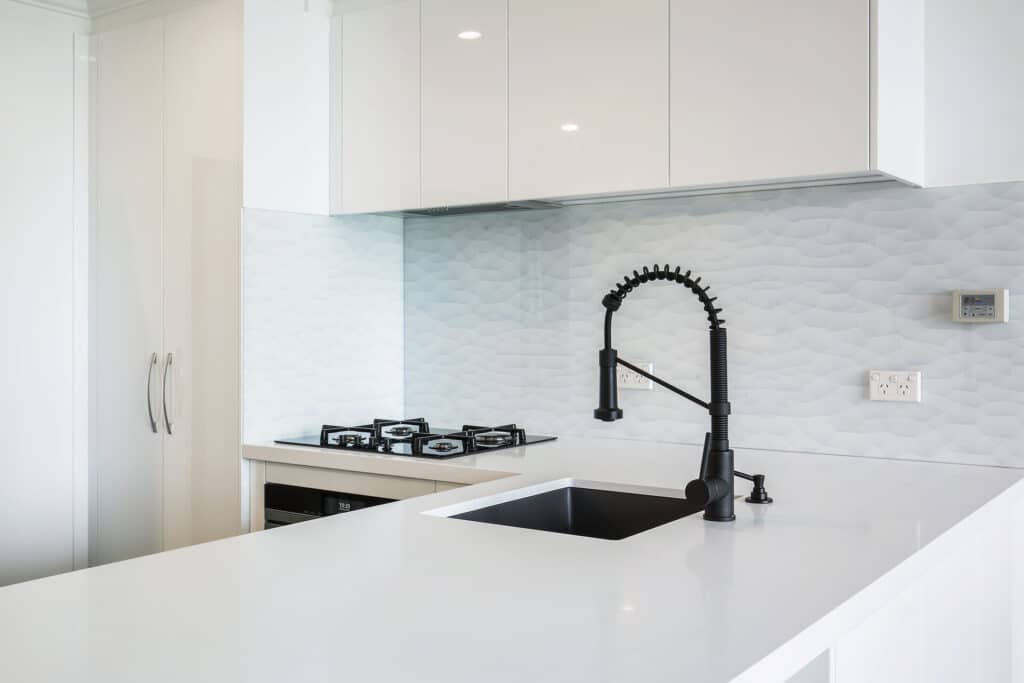 3. Install a Mirrored Splashback
Using a mirrored splashback adds depth to your room, making it appear larger than it really is. The drawback is that it gets dirty easily and needs to be cleaned often to maintain its pristine look. If a mirror is your thing, you can reduce your cleaning time with antiqued glass that adds a vintage look to your splashback.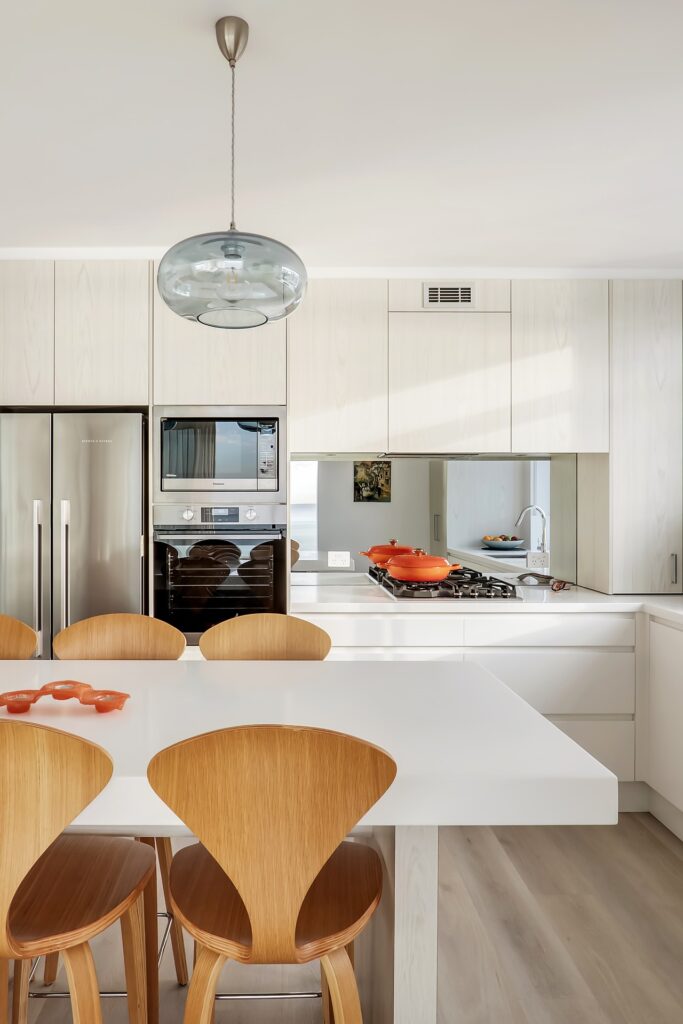 4. Stone Splashbacks Rock
If your style is earthy, stone may be ideal for your kitchen splashback. It is often more expensive than other options and, depending on the type, will need special treatment to increase its durability and water resistance.
Engineered stone is also an option. It looks spectacular when the splashback is a continuation of your benchtops. It's more durable than natural stone and easier to clean, with a wide range of colours, designs and patterns available for you to choose from.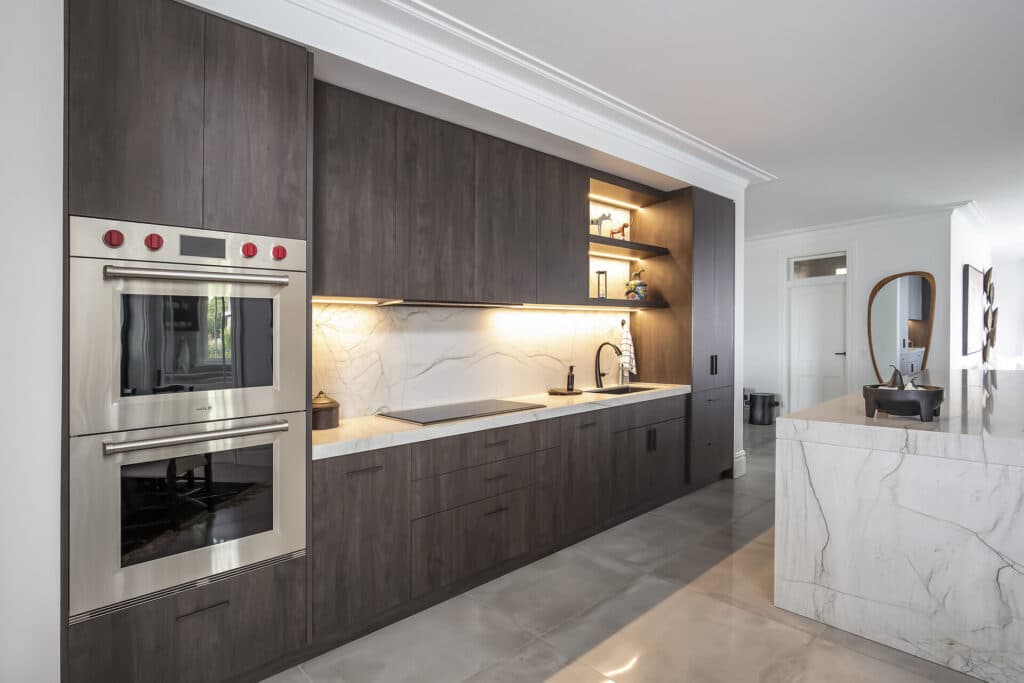 5. Traditional Metal
Traditionally, metal has been the material of choice for splashbacks behind stoves. Stainless steel is a very popular option but it can be difficult to clean and it is susceptible to scratches and dents.
An alternative is a copper splashback that is durable and easy to clean and looks impressive in the right space.
Contact Nouvelle About Your Renovation
As professionals, we know what we are doing regarding renovations. We know how to maximise the use of your space, design to reflect your lifestyle and renovate to budget and agreed time frames.
Our state-of-the-art Business Management System, unique to Nouvelle, allows us to operate with a level of scheduling expertise that sets us apart from other providers. It takes the headache out of your renovation, so you enjoy your new space without the stress.
If you enjoyed our post, let us know your thoughts on our Facebook Kitchen Renovation and Design Ideas group! If you have questions about your renovation or remodel and want to know how to make a statement in your home, contact us at Nouvelle.